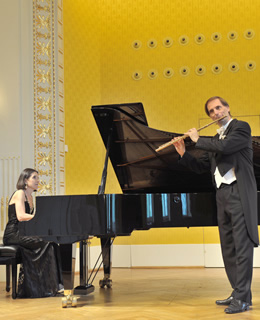 Medici Concerts A Night in Vienna 1 October 5pm (Past Event)
An enchanting twilight concert in the magnificent surrounds of St John's Cathedral featuring the music of Old Vienna, including some of Johann Strauss' most beloved waltzes.
The Flury-Prinz Duo brings together two of Europe's finest soloists – their recent sold-out Carnegie Hall recital received rave reviews. Dieter Flury is Principal Flutist of the Vienna Philharmonic, and artist who has been called no less than a "flute Paganini". He performs on a golden flute whose radiance is matched by its warm, sensual, shimmering tone. Pianist Maria Prinz, acclaimed soloist and chamber musician, performs with the world's leading conductors and orchestras, including the Vienna Philharmonic.
In the famed tradition of the Vienna Philharmonic New Year's Concert, the program will include a selection of Strauss' famous waltzes – Blue Danube and Voices of Spring as well as Carnival in Venice and the rollicking Perpetuum Mobile.
The beautifully crafted concert program also includes Bach's glorious B minor sonata, Beethoven – Variations 'The beautiful Minka', Mozart's sonata for flute and piano in B flat major and other works including … the sensational, virtuosic Carmen Fantasie.
Buy tickets for Medici Concerts A Night in Vienna 1 October 5pm
Copyright © 2018 Medici Concerts.