News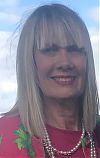 Ann Thompson OAM is the Founder and Director of Medici Concerts International Piano Series. In 2004, Ann Thompson was awarded a Medal of the Order of Australia for services to music and community.

1. Chopin: Nocturnes
These wonderfully evocative, dreamlike pieces take me back to my childhood when my mother and I would sit on the verandah on Saturday mornings and listen to my father play his beloved Chopin.
Copyright © 2019 Medici Concerts.